Click this video and learn more about our Clinic Services!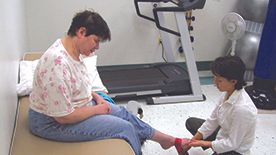 Our Clinic programs, located in Monticello and Poughkeepsie, support the mission of The Arc Greater Hudson Valley by providing an array of professional services to people with intellectual and developmental disabilities. These supports enhance the physical and emotional health of people with disabilities and to help enable them to live a vibrant life. 
Our medical and therapy staff offer a wide range of skills and interests along with years of experience serving the often complex needs of people with disabilities. Therapies are designed with the goals of facilitating the rights of the person to make informed choices, express needs and preferences, explore options, set personal goals, expand competencies, understand and manage diagnoses, achieve optimal well-being, and improve quality of life. Our staff respect individual choice and whenever possible strive to understand the unique aspects of each person.
A holistic, person-centered approach to the provision of clinic supports is taken by our staff. Areas addressed include: mobility, activities of daily living, socialization, functional communication, self-esteem, assertiveness, problem solving, frustration tolerance, vocational enhancement, hearing-aid training, mental health, dental, foot care, nutrition, and nursing services.
Services offered are:
Medical Evaluation and Management (Dutchess)
Psychology
Psychiatry
Nursing
Social Work
Dentistry
Podiatry
Speech & Language Therapy
Occupational and Physical Therapy
Nutrition / Dietary Services
Rehabilitation Counseling
Anyone can make a referral for Clinic services, including the person seeking a service for themselves. Information about Monticello Clinic services and the referral process can be obtained by calling 845-796-1350 x16210 or by emailing clinic@arcghvny.org. 
Information about Poughkeepsie Clinic services and the referral process can be obtained by calling 845-796-1350 ext 22146 or by emailing chenning@arcghvny.org
Monticello Clinic Location – Director: Amy Johnson
162 East Broadway
Monticello, NY 12701
Poughkeepsie Clinic Location – Director: Christine Henning
8 Industry Street
Poughkeepsie, NY 12603