FOR THE LOVE OF RAYMOND - Between the Laughter and the Tears
by Carol Dunn
This book is the true story of a mother's extraordinary journey to keep her severely disabled son alive through unrelenting love and sheer determination.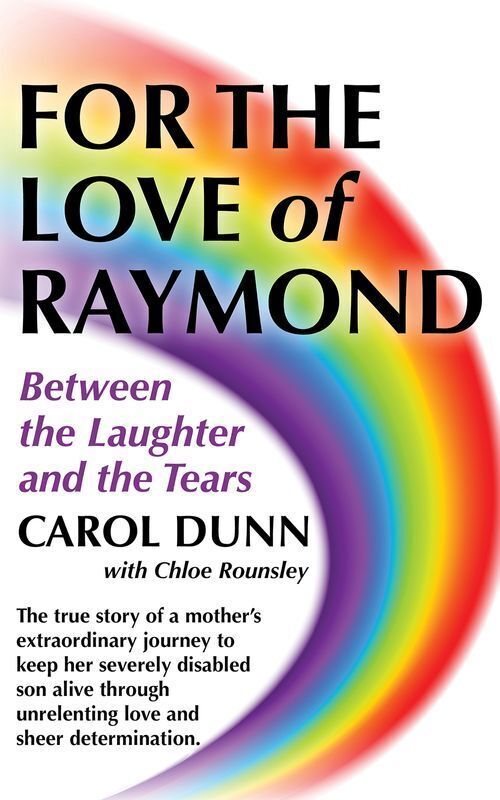 When Raymond Dunn, Jr. was born in 1974 with extreme disabilities, his parents, Carol & Ray Dunn, were told to expect him to live only about a year. He was blind, suffered from seizures, could not use his limbs, could not speak, had life-threatening allergies and asthma. But with Carol's unwavering determination, Ray's strength, and the power of love, Raymond lived until the age of 20.
With the help of "Raymond's Girls", a group of home aides, special education teachers and nurses, Raymond lived a life full of love with undivided attention.
When Raymond's main food supply was discontinued by Gerber Baby Food (Gerber Products Company) Carol started a five year campaign to replace it. With her persistence, she managed the impossible. The story was picked up by media all over the world, and Raymond was tagged the "Gerber Boy".
Raymond was a gentle soul who touched the lives of all who came in contact with him. Though the heartaches, struggles, and trips to the emergency room were plentiful, his parents and caregivers always managed to bring joy and humor into their daily care of Raymond. Carol believed it was her and Ray's destiny to take care of their child through thick and thin, through the tears, and through the laughter.
This heartwarming, bittersweet story is told in Carol Dunn's own words and includes letters, doctors' reports, newspaper articles, testimonials, and photos documenting this young man's journey. It is not only the story of Raymond's short life, but is also Carol and Ray's remarkable love story.
© 2022 The Arc Greater Hudson Valley Foundation
---
For the Love of Raymond was written from a series of taped interviews recorded in February 2018 with Carol Dunn. Unfortunately Carol passed away shortly afterwards in April 2018 and never had the opportunity to see the final outcome. The book is published by The Arc Greater Hudson Valley Foundation.
Available for purchase as a paperback or a Kindle e-book at Amazon.com
All proceeds benefit The Arc Greater Hudson Valley Foundation.
For more information contact: Joan Glase
---
Images from the Book
A limited number images are featured in the book in black and white. Here you can view many of the original color images chronicling Raymond's life. Extra images have been added that are not featured in the book.
CHAPTER 1
CHAPTER 2
CHAPTER 3
CHAPTER 4
CHAPTER 5
CHAPTER 6
CHAPTER 7
CHAPTER 8
CHAPTER 9
CHAPTER 10
CHAPTER 11
CHAPTER 12
CHAPTER 13
CHAPTER 14
CHAPTER 15