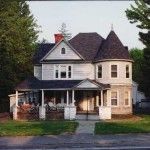 The Arc Greater Hudson Valley's Residential Program provides family style, community-based housing in over 55 locations throughout Sullivan, Orange County, and Dutchess County. The diverse choice of resources and shared living services affords individuals a variety of personalized tools ranging from staff supports for emotional, physical and self-care needs; rent assistance; budget management; engagement in the community; health and wellness management; transportation for work and leisure interests; and more. The staff supports vary based on the persons need, from weekly check-in visits to 24-hour supports. Individual preferences and needs are the first consideration in finding people their ideal home.
Residential services include:
Individual Residential Alternative (IRA): supervised and supportive, in locations regulated and certified by NYS Office for People With Developmental Disabilities (OPWDD);
Individualized Support Services (ISS): financial management and monitoring for people living on their own home or with family;
Community Habilitation (ComHab): skill development and enrichment for people living on their own or with family;
These resources may be offered as a lifetime or a transitional support.  Each opportunity is tailored to the person's interests and fosters connections with friends, family and neighbors throughout the local communities.
For more information about Sullivan and Orange County Residential Programs please call The Arc of Sullivan-Orange Counties Intake Coordinator at 845-796-1350 ext. Ext. 1303, or by emailing at cmurphy@arcghvny.org
For more information about Dutchess County Residential Programs, please call Residential Director, Debra Hunter, at 845-635-8084 x 21141 email dhunter@arcghvny.org. 
The Arc Greater Hudson Valley Residential Services Main Office
162 East Broadway
Monticello, NY 12701
The Arc Greater Hudson Valley Dutchess County Residential Services Office
84 Patrick Lane Suite 130
Poughkeepsie, NY 12603