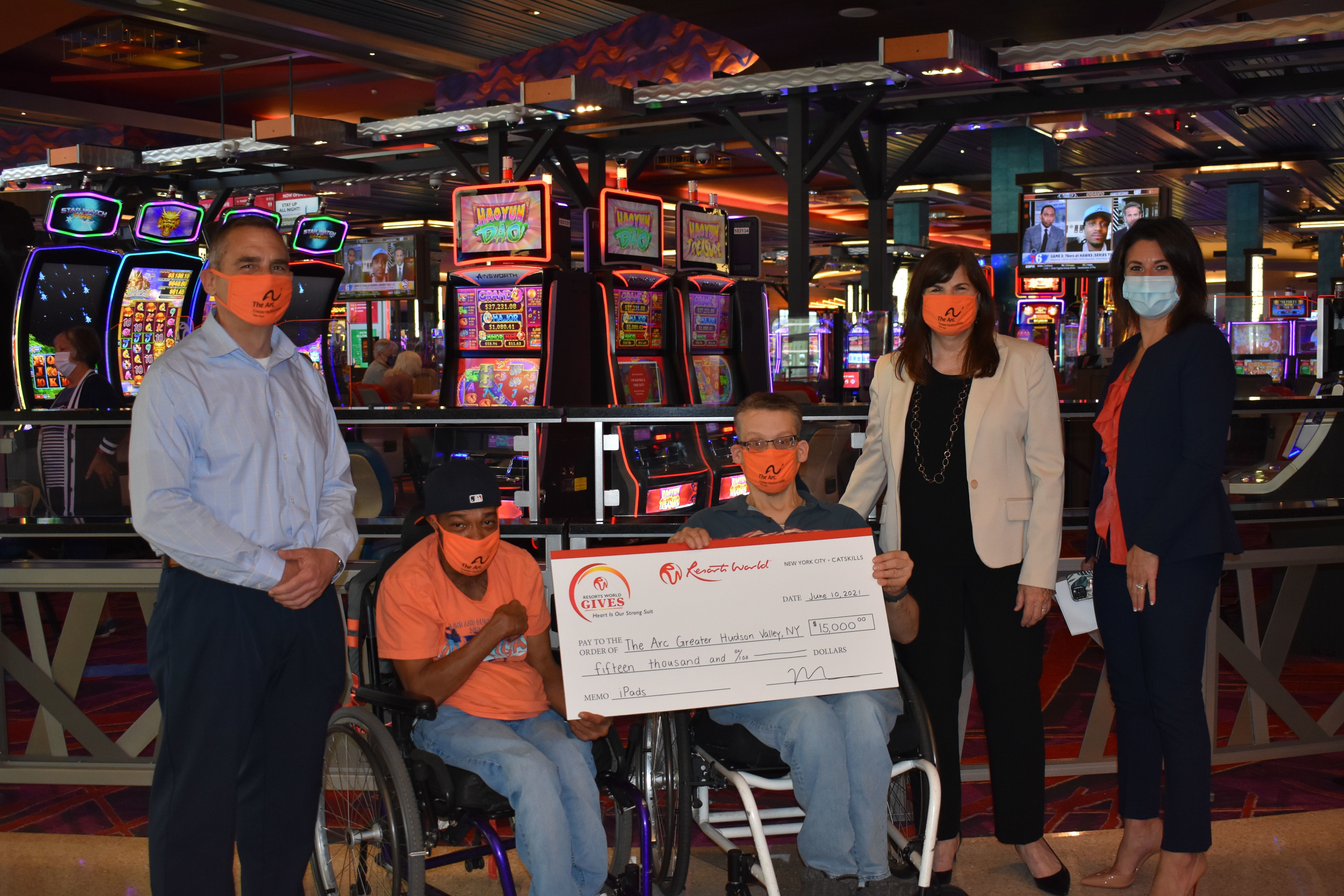 July 27, 2021
Contact: Lesley Mould  
                RWNY@mercuryllc.com

Resorts World Catskills Presents $15,000 Donation to The Arc Greater Hudson Valley to Expand Residents' Access to Telehealth
Monticello, N.Y. – Resorts World Catskills (RWC) unveiled a $15,000 donation to The Arc Greater Hudson Valley through the Resorts World Gives (RWG) program to help the organization's housing residents overcome technological barriers to telehealth. The funds will go towards the purchase of 38 iPads for use in The Arc's family-style homes and apartments, with a limit of one device per residence. The iPads will provide residents uninterrupted and reliable access to telehealth visits via conferencing tools, such as FaceTime, Skype and Zoom.
Resorts World Gives supports organizations, projects and programs that create opportunities for economic and social progress in the communities where Resorts World Catskills and Resorts World New York City do business. To date, RWG has donated $3M to over 200 local organizations and matched 100% of employee donations.
"We are proud to support The Arc Greater Hudson Valley in providing a wider range of choices for emotional, physical and self-care needs for those who need it most," said Meghan Taylor, VP of Government Relations and Public Relations, Resorts World Catskills & Resorts World New York City. "Empowering individuals to make informed health decisions is key to building a better community."
"The Arc Greater Hudson Valley depends on contributions and support from programs like Resorts World Gives to bring these life-changing initiatives to life," said Joan Glase, The Arc Greater Hudson Valley Director of Public Relations and Foundation. "Together, we are improving the health and happiness of countless residents and spreading awareness of the barriers to telehealth access for low-income patients."
About Resorts World Catskills
Located in the heart of New York's Catskill region, Resorts World Catskills (RWC) Casino Resort offers guests unmatched experiences in excitement, entertainment, and luxury. The integrated casino resort includes an 18-story all-suite hotel, and a casino featuring 100,000 square feet of gaming action including 150 live Las-Vegas style table games, 1,600 state-of-the art slot machines, a poker room, private gaming salons and a 100-seat sportsbook lounge. The casino resort also offers 10 varied bar and restaurant experiences, which includes an Italian steakhouse created by celebrity chef Scott Conant, and year-round live entertainment at the 2,500-seat RW Epicenter, casino bars and lounges. The luxurious hotel located within Resorts World Catskills is comprised of 332 suites, the Crystal Life Spa, two indoor pools, and two fitness centers. The integrated casino resort also includes additional stay and play destinations on its campus, including The Alder, an adjacent 101-room lifestyle hotel featuring the first Topgolf Swing Suites in New York State, and Dos Gatos, a cantina-style Mexican eatery and the recently opened Kartrite Resort and Indoor Waterpark, and will be expanded to include a Rees Jones redesigned golf course.
About The Arc Greater Hudson Valley, New York
The Arc Greater Hudson Valley, NY is a not-for-profit agency created in January 2021 dedicated to providing supports to over 2,000 people with disabilities and their families in Sullivan, Orange, and Dutchess Counties. Formerly known as The Arc Sullivan-Orange Counties and The Arc of Dutchess, The Arc Greater Hudson Valley provides innovative, high-quality services including Residential Services, Clinical Services, Day Services, Family Support Services, Guardianship Services, Children's Education Services, Employment Services, Recreation, Respite and more.