At the time of our unification as The Arc Greater Hudson Valley, we have three foundations for the purpose of raising alternate sources of funds for our programs in each of our service areas: Sullivan, Orange, and Dutchess County.
The SullivanArc Foundation was founded in late 2009 to concentrate on developing resources to supplement the usual funding to enhance the sole needs of people with developmental disabilities. The Arc of Orange County Foundation was founded in 2010 also for funding purposes. The Arc of Dutchess Foundation was created for these same purposes.
The success of the our Foundations will play a key role in improving the quality of life for people supported by The Arc Greater Hudson Valley as well as the community, and will enable us to implement new and innovative programs.
There are Many Ways to Give: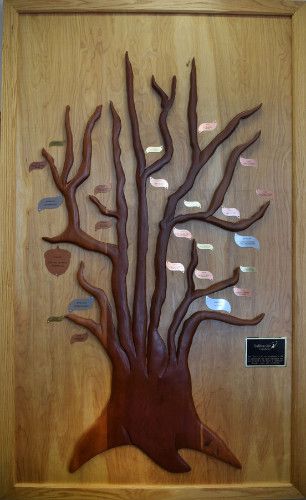 Help our Donor Tree Grow!
All donations over $500 will be recognized with a personalized brass, copper or aluminum leaf attached to our Donor Tree – a wooden hand-carved work of art hanging at The Arc Greater Hudson Valley's Cimarron Rd location.
Friend: Up to $499
Supporter: $500-$999
Patron: $1,000 to $4,999
Benefactor: $5,000 to $50,000
Donors to all three Foundations at any level will be recognized in our annual calendar.
CORPORATE GIVING
Through sponsorship, corporations and business of all sizes can receive marketing benefits in three counties while partnering with an organization supporting thousands of your neighbors. Being a sponsor is an excellent marketing tool, while at the same time sustaining the mission of The Arc Greater Hudson Valley. Through sponsorship, facilitated through the organization's separate Foundations, you will receive high visibility with logo placement, social media recognition, digital promotions, and print and PR placement. And you will align your business with one of the largest providers of supports to individuals in YOUR community with developmental disabilities in the area.
PLANNED GIVING
Gifts From Your Will or Trust
Need to preserve your assets during your lifetime? You can plan a gift to us in your will or trust that ensures your lasting legacy and support without creating an impactful financial burden. Legacy gifts are true gifts to our organization – allowing us to grow and innovate as we ensure our vibrant future. 
Retirement Plan
By giving The Arc Greater Hudson Valley assets subject to double taxation, you leave more to your family! Talk about a win, win!
Appreciated Securities
Take advantage of appreciated securities without incurring capital gains tax.
Life Insurance
You don't need a large estate to make a significant gift to us. Let us help you leverage your dollars for a larger, more impactful gift.
Charitable Annuity
A Charitable Gift Annuity Program is one of the simplest, yet most versatile of all charitable gifts. It is a way for you to make a gift to one/more of our Foundations and still receive income for yourself or others. It is a contract where we, in exchange for a gift, agree to pay a fixed sum of money for one or two lifetimes. The person who contributes the gift is the donor and the person who receives payments is the called the annuitant.
Download our Charitable Gift Annuity Form here. 
NYSARC Trust Services
NYSARC Trust Services helps provide financial security to those with disabilities and peace of mind to their families and loved ones.
While Medicaid, Supplemental Security Income (SSI), and other government benefits cover many of the basics of daily life, establishing a trust through NYSARC Trust Services can help ensure that a person with disabilities remains eligible for government benefit programs and services while providing for life enhancing items not covered by those benefits.

More information on NYSARC Trust Services
Contact