JOB FAIRS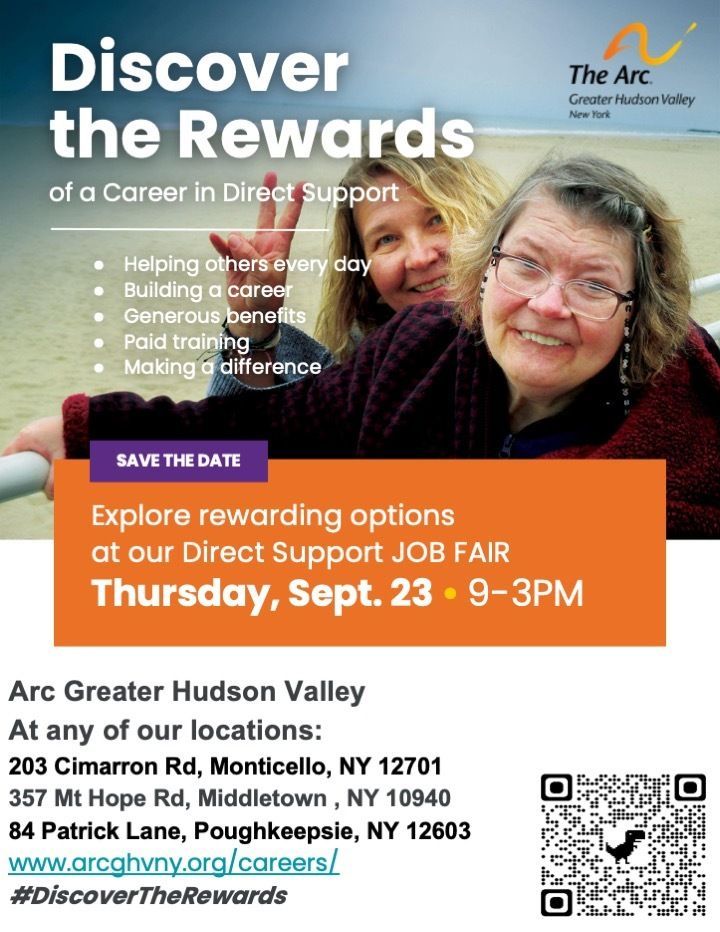 We are planning several Job Fairs:
SULLIVAN & ORANGE COUNTIES DATES AND TIMES:
WEDNESDAY, SEPTEMBER 15
Galleria Mall, Middletown
11 AM - 3 PM
SATURDAY, SEPTEMBER 18
Pine Bush Harvest Festival 
1 PM  - 7 PM
THURSDAY, SEPTEMBER 23
357 Mt. Hope Rd. Middletown
9 AM - 3 PM
and 
203 Cimarron Rd, Monticello
9 AM - 3 PM
SUNDAY, SEPTEMBER 26
Port Jervis Fall Festival
10 AM - 5 PM
DUTCHESS COUNTY DATES AND TIMES:
THURSDAY, SEPTEMBER 23
84 Patrick Lane Suite 130
Poughkeepsie NY 12603
9 AM - 3 PM
Complete an application and be interviewed the same day for open positions:
Residential, Day Program, Supported Employment: Positions available in Sullivan, Dutchess, and Orange Counties, full time and relief, including Program Director (Orange County) and Assistant Program Manager (Sullivan County) and Residential Coordinator - (Dutchess County)

See all of our Sullivan, Orange and Dutchess County job openings here
All positions require a clean, valid NYS Drivers' License with a minimum of one (1) year driving experience with a Class D license unless otherwise noted.
Download our JOB FAIR FLYER here
---
Interested in working in Ulster, Greene or Putnam County
with our sister agency - The Arc Mid-Hudson?

Arc Mid-Hudson Job Fairs:
 
THURSDAY, SEPTEMBER 23
9 am to 3pm
Ulster County:
471 Albany Ave, Kingston, NY 12401
198 Canal Street, Ellenville, NY 12428

Greene County :
311 West Bridge Str., Catskill, NY, 12414

Putnam County:
1938 Route 6, Carmel, NY 10512
Visit the Arc Mid-Hudson Website Here
Unable to attend, please submit your resume, pick up an application at 162 East Broadway, Monticello, NY 12701 and mail to:  The Arc Greater Hudson Valley, Human Resources Department, 162 East Broadway, Monticello, NY 12701, fax to:  845-796-4381 or apply online here.
Fitness Center for Staff and people supported